Join us on an exciting 'traverse' of some of the most impressive coastline Wales has to offer, right on our doorstep here at Anglesey Outdoors!
WHAT DOES IT INVOLVE
It's between walking along the tops of the coastal crags, and swimming along the coast in the sea... Literally. The activity is nearly all on the cliffs themselves, and is made up of easy scrambling sections where it's not steep, (like what you might do if you go rockpooling), and then of course the more demanding and exciting sections where the cliffs steepen up out of the sea and climbing is your only option. Fear not though as you'll be attached to ropes on these full on sections! In some places the climbing becomes impossible, and you'll have to commit yourself to rope bridges to cross the zawns! Depending on where your guide thinks will be the best venue for the day's weather and sea state, there are zip wires, caves, rope bridges, jumps and all sorts to have a go at, you could even 'take the plunge', though I couldn't tell you what that is, you'll have to come and find out! An adrenaline junkies dream!
View Activity Adventures Schedule for 2018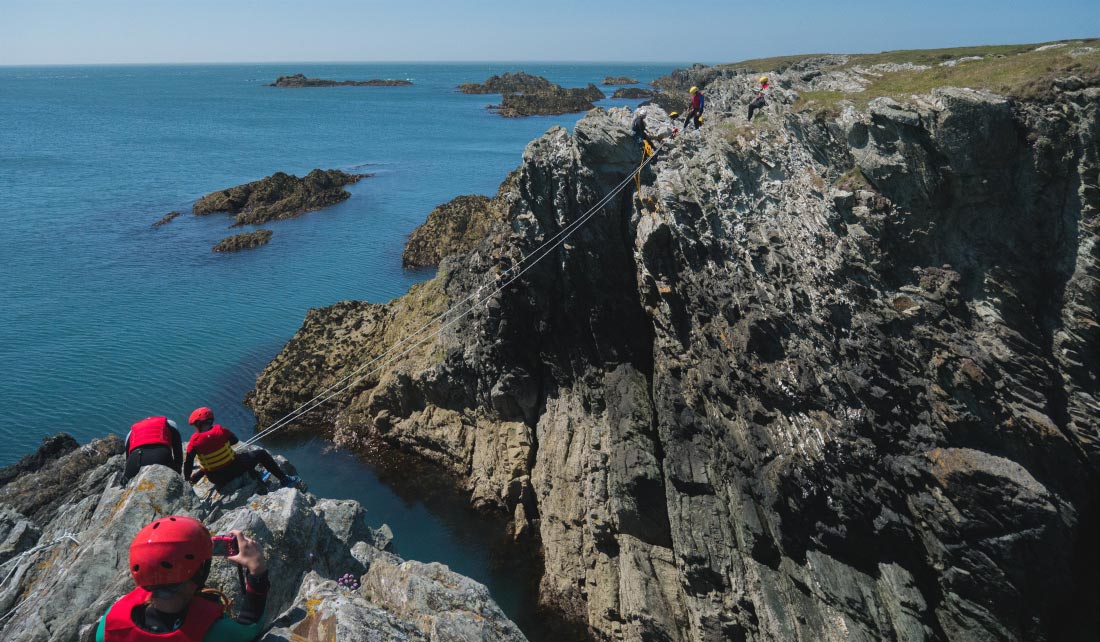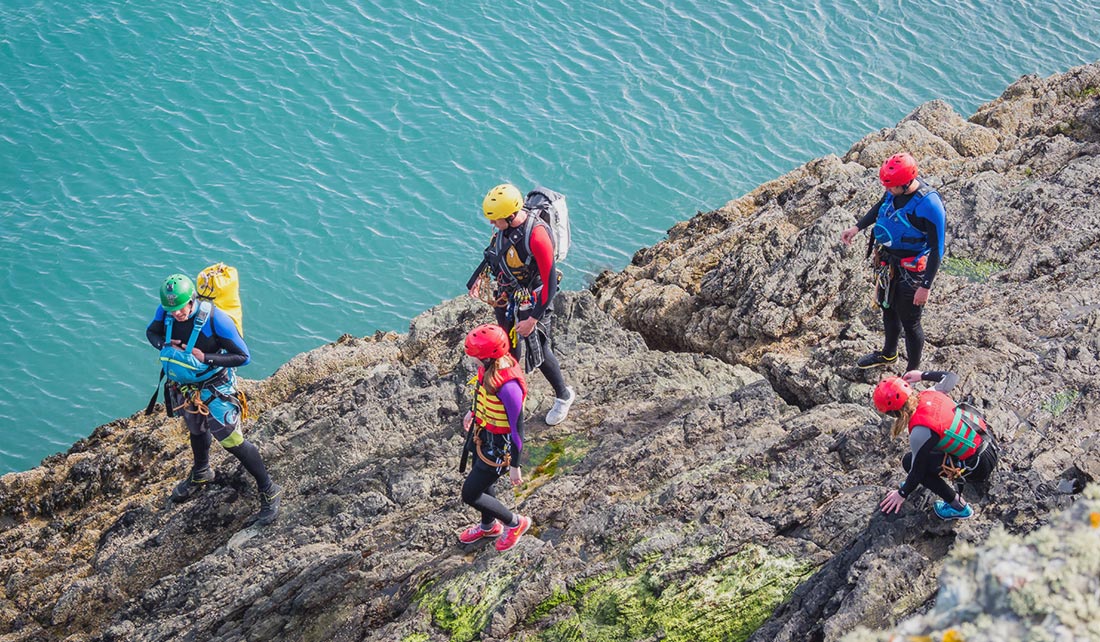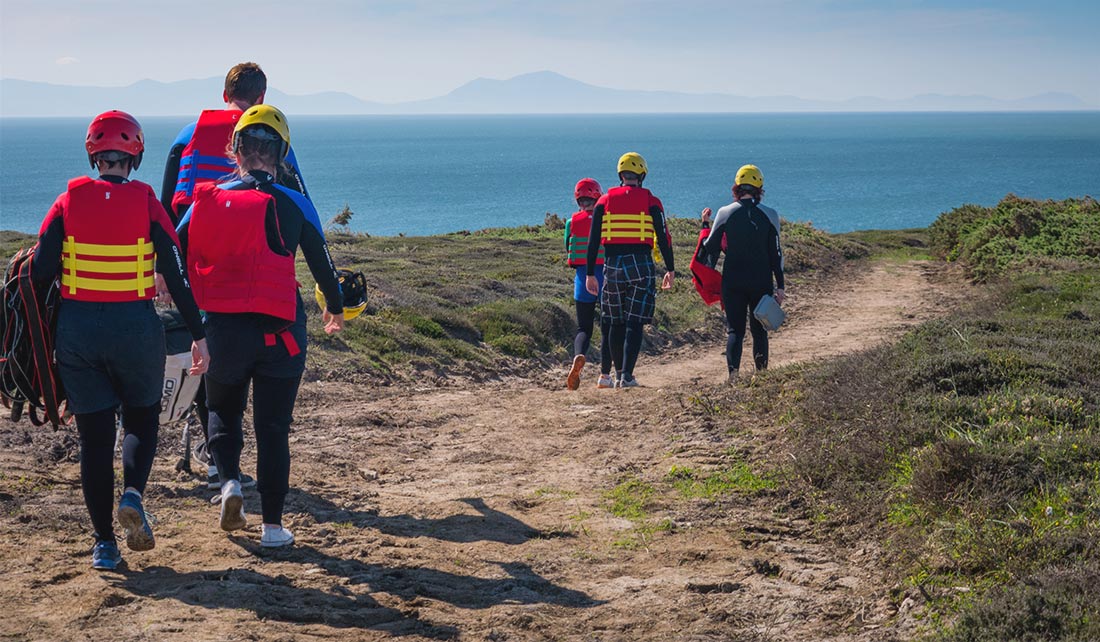 "really enjoyed it"
We had to change our booking due to weather. And so glad we did we had a brilliant day and really enjoyed it. The instructors were great!
Reviewed by (anonymous) - 2017
"great time"
We had a great time. Thought all the staff were very friendly and knew what they were doing.
Reviewed by (anonymous) - 2017
BOOKING INFO - OPEN / CLOSE
All prices include VAT at 20%
Very likely. Unlike Coasteering it isn't strictly part of the experience, and there might be options to stay dry. But usually in the summer months getting wet is part of the fun.
| | | |
| --- | --- | --- |
| | | WHO CAN GO SEA LEVEL TRAVERSING? |
Most people are fine sea level traversing, there may be an element of height on some sections (though you will be on ropes for safety), and you need to use some technical gear that we will guide you through (it's very similar to what you might have used on a ropes course) If you're happy to scramble about on rocky ground and climb trees, then this will be for you.
We provide the essential safety items you'll need, such as a harness, helmet and buoyancy aid, and a wetsuit.

You would need to bring:
Shoes. These will obviously get wet. They need to be stiff soled and you need to be able to swim in them without them coming off! Stiff soles are really important as the sea cliffs are knobbly and you don't want to feel all the knobbles through the sole of your shoe, so it needs to be robust. Jelly shoes, pumps, wetsuit boots and other floppy shoes are not suitable at all. Astroturf shoes are really slippery on wet rock so avoid them too. Your best bet is a good robust trainer shoe.
Long socks, the wetsuits will come down to your ankles, and there will usually be a gap between your shoe and the wetsuit, leaving ankles exposed. So you need to wear a long pair of socks to cover this area.
Baggy shorts to cover the wetsuit. You might look a bit like superman but when people move about with their bum on the rough rocks, our wetsuits get trashed, so we cover this area with shorts to save the kit. So don't wear your very best ones.
Swimsuit. Wetsuits are worn next to skin, and definitely work best like this. You should only wear your swimming costume underneath, be it trunks, bikini or swimming costume. (Baggy shorts under a wetsuit aren't ideal)
Towel. We usually go to a spot 5 mins drive away, so you could either change by the car there, or travel wet in the car for 5 mins and change back at base. Either way, you will need a towel. Bigger is better for getting changed at the venue.
Spare clothes for afterwards (if you arrive in swimming costumes, underwear etc.)
Sun cream and any medication you would usually carry.
People with long hair bring something to tie your hair back (that will fit under a helmet!)
Suncream, for when it's nice and sunny! Which is surprisingly often on Anglesey!
Any medication you might usually carry or need.
Because we are so close to the seaside we run half day sessions, and because travel time is so short this still gives plenty of time to make the most of the activity. We can do full day sessions too for the hardened explorers amongst you (you'd need to bring food and drink for a full day, or get a packed lunch from us).
| | | |
| --- | --- | --- |
| | | DISTANCE TO ACTIVITY LOCATION? |
The best place for this locally is a 5 min drive away. Sometimes if the conditions are not right for it, we may travel a little further, but never more than 25 mins to go to a suitable spot.
| | | |
| --- | --- | --- |
| | | HOW MANY CAN PARTICIPATE? |
Sea Level Traversing is not really suitable for people under the age of 11, but it is still possible at certain locations which are really easy going. We use a variety of locations to suit varying abilities so can accommodate pretty much everyone.

We work with groups of 8. If we go over this, we can get a second instructor.
| | | |
| --- | --- | --- |
| | | WHEN DO YOU OFFER SEA LEVEL TRAVERSING (SLT)? |
SLT is a great year/round activity, because in the winter, we can keep it fairly dry if we want to.
Book your place today for Sea Level Traversing
| | | |
| --- | --- | --- |
| | | WHY CHOOSE ANGLESEY OUTDOORS? |
We have excellent local venues for sea level traversing. And our instructors have a good working knowledge of the venues, so they can set up all sorts of interesting challenges along the way. Our instructors are highly qualified and experienced, so you'll be in good hands. We will also take waterproof cameras along with us, and share the photos with you online! Once were done, you can come back to the centre and enjoy hot showers, and get a drink from our on-site bar!
Like all adventure activities, there is an element of risk, otherwise it would be known as 'boring activities'... By being accompanied by our experienced instructors, they will constantly be making decisions about how to best manage these risk, so you get the most out of the activity, whilst keeping these risks as minimal as possible. We are AALA licensed, meaning we meet and exceed very high standards of safety for adventurous activities.
Please read through our Terms & Conditions
| | | |
| --- | --- | --- |
| | | HOW TO BOOK YOUR SEA LEVEL TRAVERSING ADVENTURE |
Follow the button to check availability / pricing or book your place on Sea Level Traversing today!


If you are looking to give someone an unforgettable experience we also offer Gift Vouchers. This means that you can not only book today, for activities in the coming season, but also buy an unforgettable treat for someone special which can be used at their chosen date.
Alternatively, contact us for more info

Any questions...
This website follows a standard privacy and cookie policy
RELATED ITEMS
You may also like ...
Do you require accommodation with your excursion?!
Anglesey Outdoors has a vareity of accommodation available on-site, popular with outdoor enthusiasts

Check availability for your accommodation today