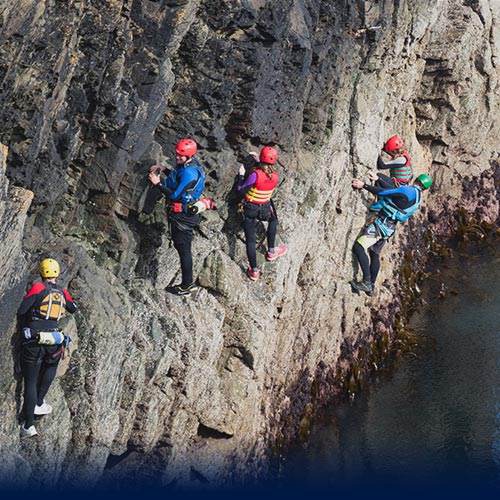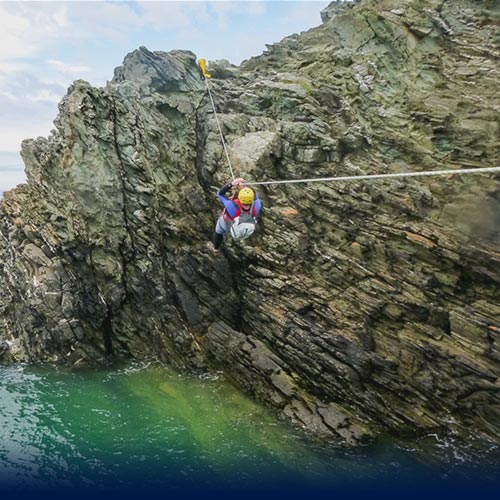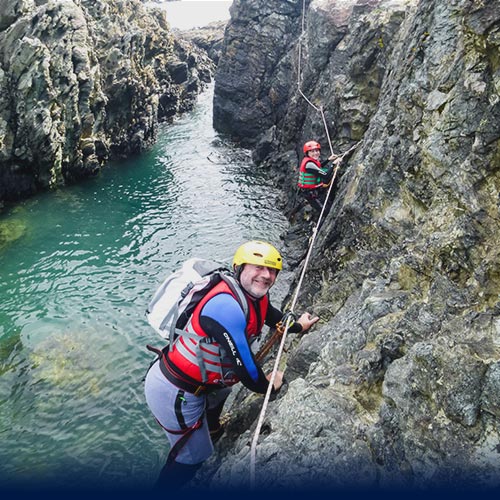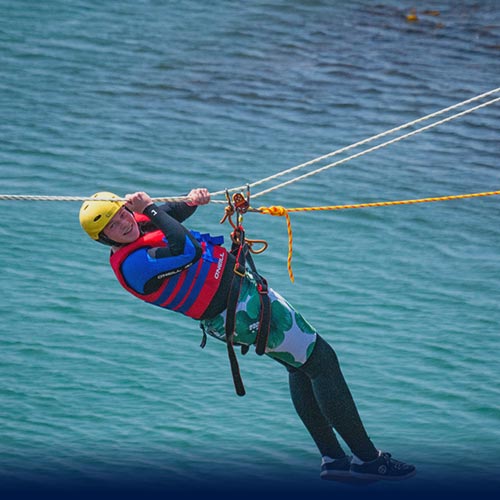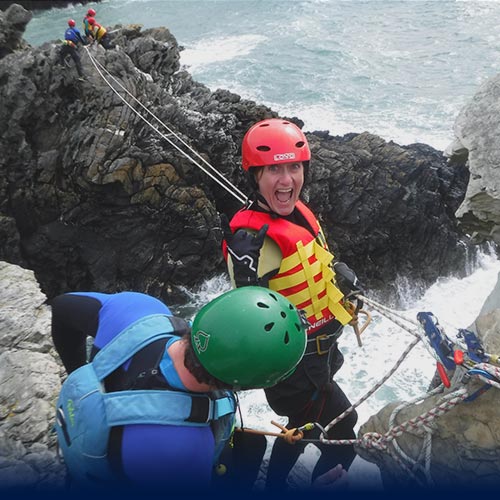 Discover the impressive coastline of North Wales from an entirely new perspective and join us on an exhilarating sea-level traverse.
A real test of nerve, this activity involves scrambling across the rocks to reach the dramatic sea cliffs where, attached to ropes, you'll climb the steepest sections. To reach the next cliff, you'll need to harness yourself to a rope bridge and slide yourself over the waves below.

This activity is both a physical challenge and a thrill, and is sure to leave you and your teammates with a true feeling of accomplishment.
*All activities are subject to weather conditions.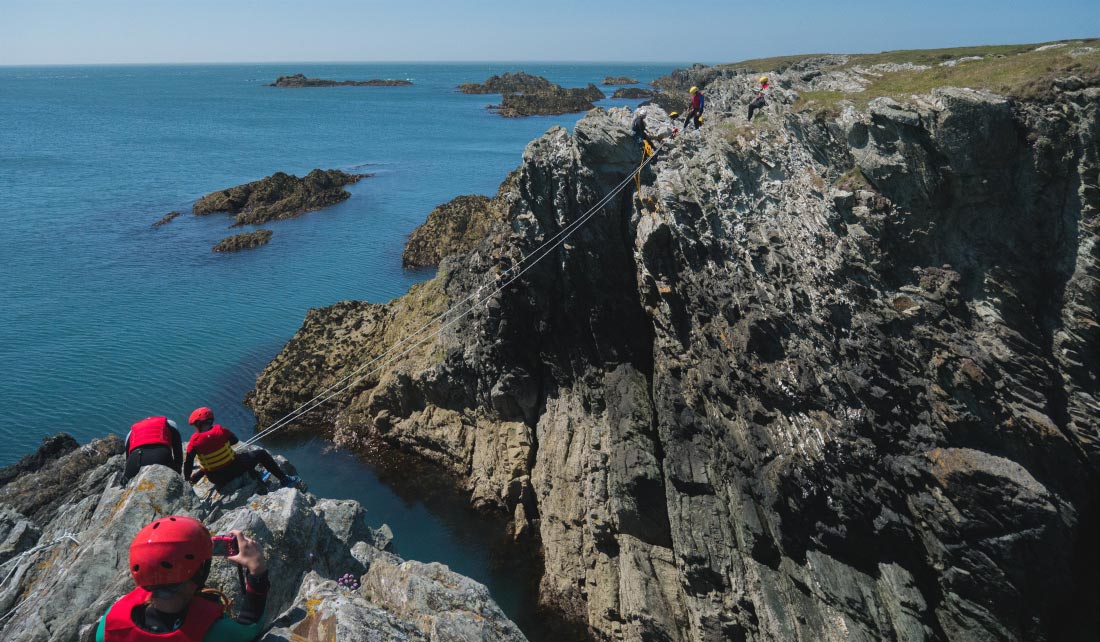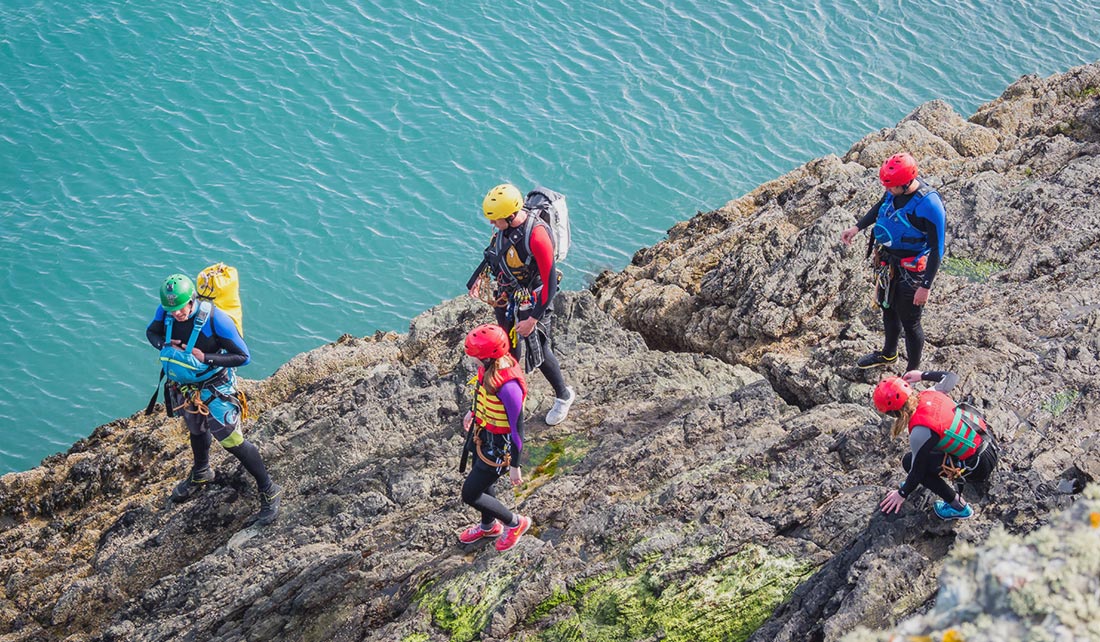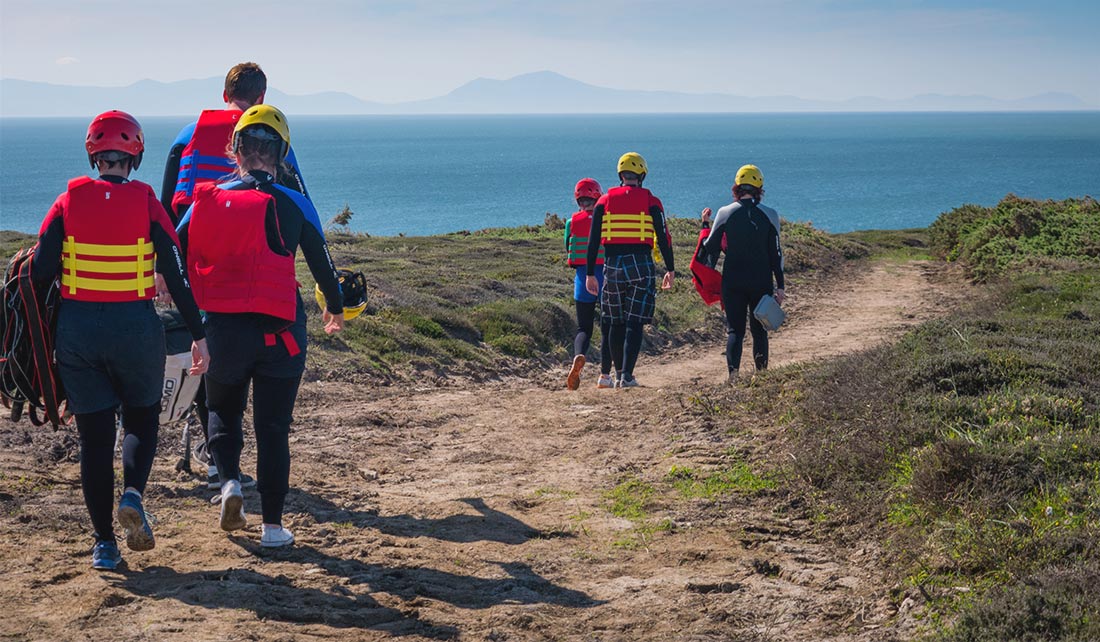 5 out of 5
"really enjoyed it"
We had to change our booking due to weather. And so glad we did we had a brilliant day and really enjoyed it. The instructors were great!
Reviewed by (anonymous) - 2017
5 out of 5
"great time"
We had a great time. Thought all the staff were very friendly and knew what they were doing.
Reviewed by (anonymous) - 2017
BOOKING INFO - OPEN / CLOSE
All prices include VAT at 20%
Possibly.... Whilst SLT is a dry activity, there is always a chance of being splashed as you'll be near the sea, and every now and then a wave might get your feet. But it's certainly not a submersion activity.
| | | |
| --- | --- | --- |
| | | WHO CAN GO SEA LEVEL TRAVERSING? |
Most people are fine sea level traversing, there may be an element of height on some sections (though you will be on ropes for safety), and you need to use some technical gear that we will guide you through (it's very similar to what you might have used on a ropes course) If you're happy to scramble about on rocky ground and climb trees, then this will be for you.
We provide the essential safety items you'll need, such as a harness, helmet and buoyancy aid, and we can kit you up with some waterproofs if you don't have your own (only for windy or wet days)

You would need to bring:
Warm clothing, ideally that dries quickly (meaning jeans are not ideal at all).
Waterproofs to cover you up, this isn't always necessary at all but on a wet or windy day these will keep you comfortable (we do have some we can lend you if needed)
Shoes. There is a good chance these will get wet. They need to be stiff soled so you can stand on pointy rock, and have secure fastenings to stop them coming off!Stiff soles are really important as the sea cliffs are knobbly and you don't want to feel all the knobbles through the sole of your shoe, so it needs to be robust. Jelly shoes, pumps, wetsuit boots and other floppy shoes are not suitable at all. Astroturf shoes are really slippery on wet rock so avoid them too. Your best bet is a good robust trainer shoe.
Spare clothes for afterwards just incase you do end up getting quite wet. Especially shoes.
Sun cream and any medication you would usually carry.
People with long hair bring something to tie your hair back (that will fit under a helmet!)
Suncream, for when it's nice and sunny! Which is surprisingly often on Anglesey!
Any medication you might usually carry or need.
Because we are so close to the seaside we run half day sessions, and because travel time is so short this still gives plenty of time to make the most of the activity. We can do full day sessions too for the hardened explorers amongst you (you'd need to bring food and drink for a full day, or get a packed lunch from us).
| | | |
| --- | --- | --- |
| | | DISTANCE TO ACTIVITY LOCATION? |
The best place for this locally is a 5 min drive away. Sometimes if the conditions are not right for it, we may travel a little further, but never more than 25 mins to go to a suitable spot.
| | | |
| --- | --- | --- |
| | | HOW MANY CAN PARTICIPATE? |
Sea Level Traversing is not really suitable for people under the age of 11, but it is still possible at certain locations which are really easy going. We use a variety of locations to suit varying abilities so can accommodate pretty much everyone.

We work with groups of 8. If we go over this, we can get a second instructor.
| | | |
| --- | --- | --- |
| | | WHEN DO YOU OFFER SEA LEVEL TRAVERSING (SLT)? |
SLT is a great year/round activity, because in the winter, we can keep it fairly dry if we want to.
| | | |
| --- | --- | --- |
| | | WHY CHOOSE ANGLESEY OUTDOORS? |
We have excellent local venues for sea level traversing. And our instructors have a good working knowledge of the venues, so they can set up all sorts of interesting challenges along the way. Our instructors are highly qualified and experienced, so you'll be in good hands. Once were done, you can come back to the centre and enjoy hot showers, and get a drink from our on-site bar!
Like all adventure activities, there is an element of risk, otherwise it would be known as 'boring activities'... By being accompanied by our experienced instructors, they will constantly be making decisions about how to best manage these risk, so you get the most out of the activity, whilst keeping these risks as minimal as possible. We are AALA licensed, meaning we meet and exceed very high standards of safety for adventurous activities.

Please read through our Terms & Conditions
| | | |
| --- | --- | --- |
| | | HOW TO BOOK YOUR SEA LEVEL TRAVERSING ADVENTURE |
| | |
| --- | --- |
| Click the 'Book Now' button to check availability / pricing or book your place on Sea Level Traversing today! | |
Should you require a private session just for your group please complete the booking enquiry form below.
Our private activity sessions are ideal for parties, stag and hen do's or corporate events. Special rates are available for school, scout groups or charitable organisations, contact us for details.

Contact us today for more info about Sea Level Traversing.
Send an e-mail
Any questions...
This website follows a standard privacy and cookie policy
RELATED ITEMS
You may also like ...
View all Activity Adventures
Do you require accommodation with your excursion?!
Anglesey Outdoors has a vareity of accommodation available on-site, popular with outdoor enthusiasts.
View all Accommodation