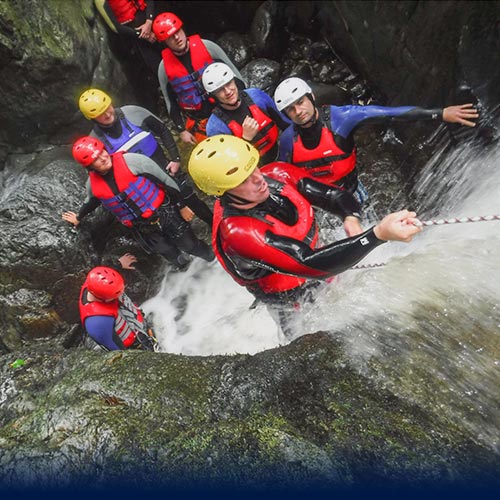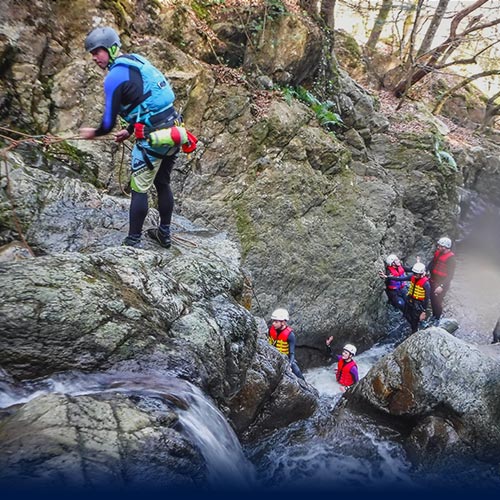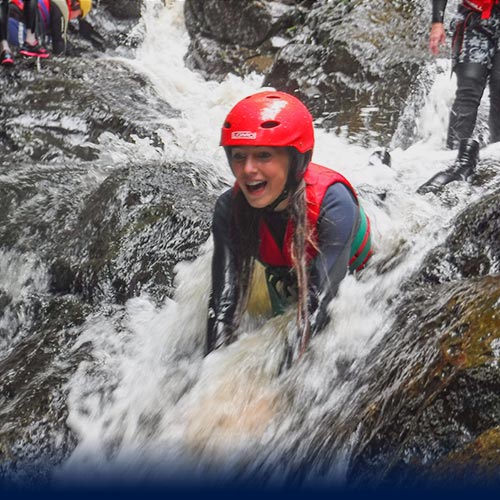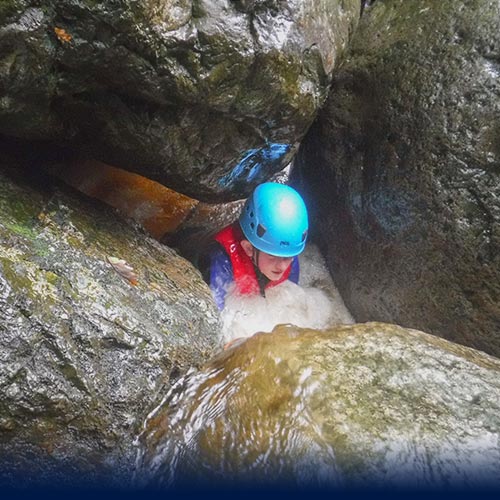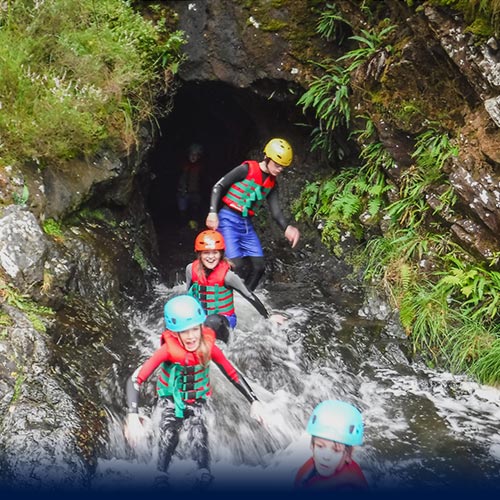 Anglesey Outdoors takes guests to the gorges of Snowdonia for the ultimate outdoor adventure.
Guided by an experienced instructor, make your way up the fresh-water mountain river and experience these unique natural environments as never before. Scramble across boulders, climb cascading waterfalls and scale rock faces.

Make your way down with the current as you slide down the rapids into refreshing pools, abseil down the waterfalls and clamber between gaps in the boulders.

Experience nature's very own water park in the heart of Snowdonia , it's certainly one not to be missed.
What exactly is it?
A lot of people ask 'what does this involve?' Well a whole lot of fun for starters! The answer is making your way either up or down a 'gorge' - this has been formed over thousands of years, by water very slowly wearing it away a channel to create a trench in the bedrock. Over time these trenches get bigger and bigger, and are full of waterfalls, slides, boulders, pools and steep sides. This is what we know as a gorge or a canyon. Gorge scrambling or walking usually means making your way up through these obstacles, and canyoning usually means going down through the obstacles. Which style you do depends on the gorge or canyon you go to.
What makes it so good?
All these obstacles are challenges! During the session you might need to jump across gaps, scramble up waterfalls, slide down and across pools, duck under branches... The list goes on. There are loads of great features all along the way. We sometimes use ropes as well to make it even more exciting!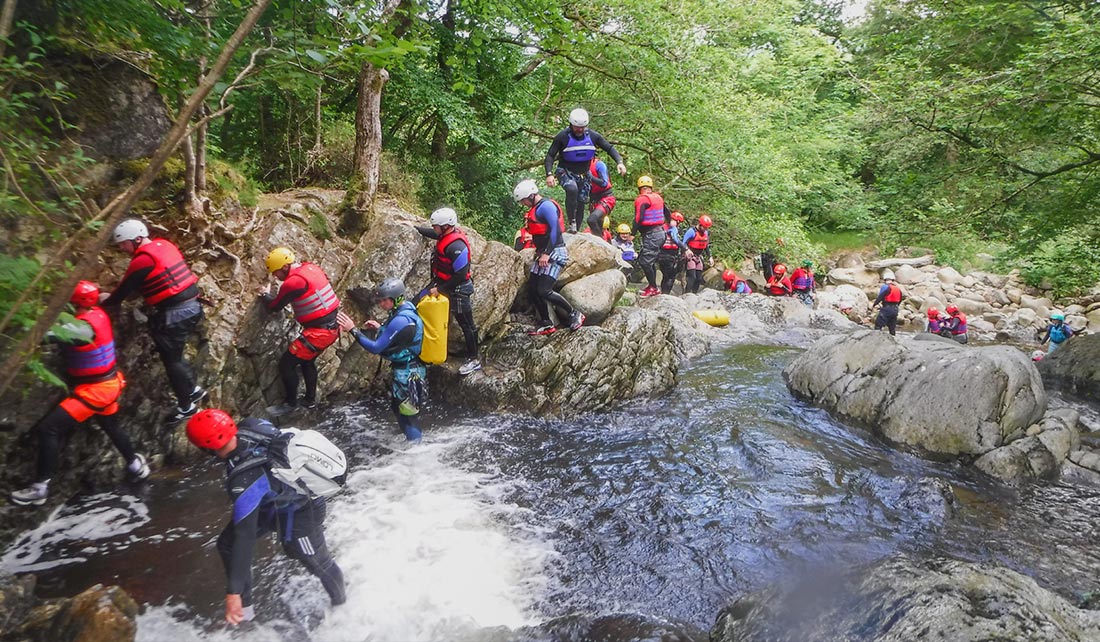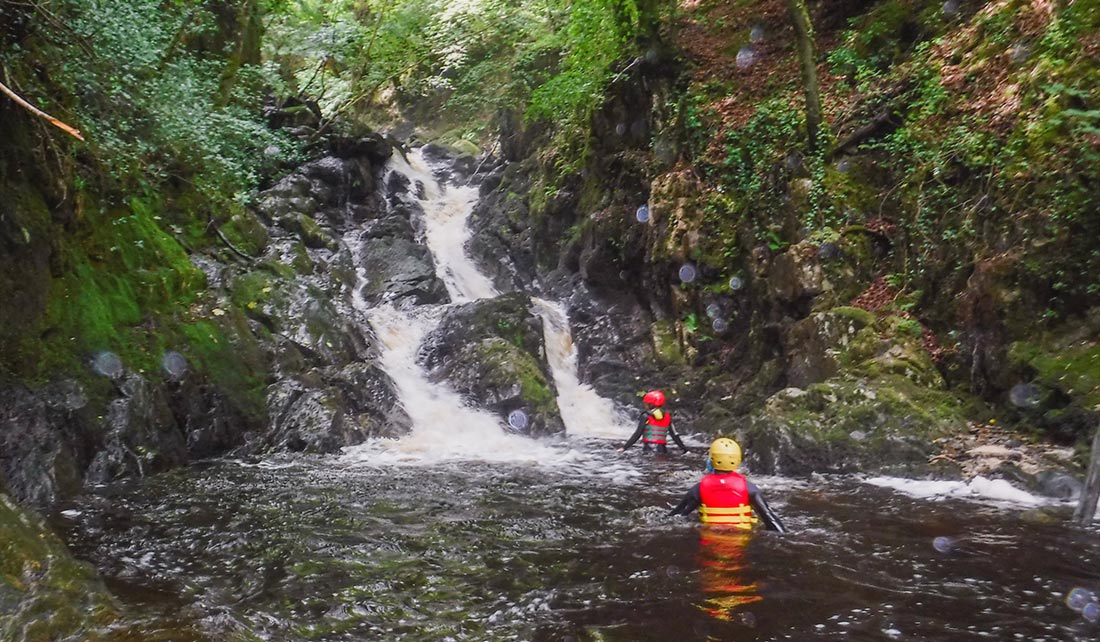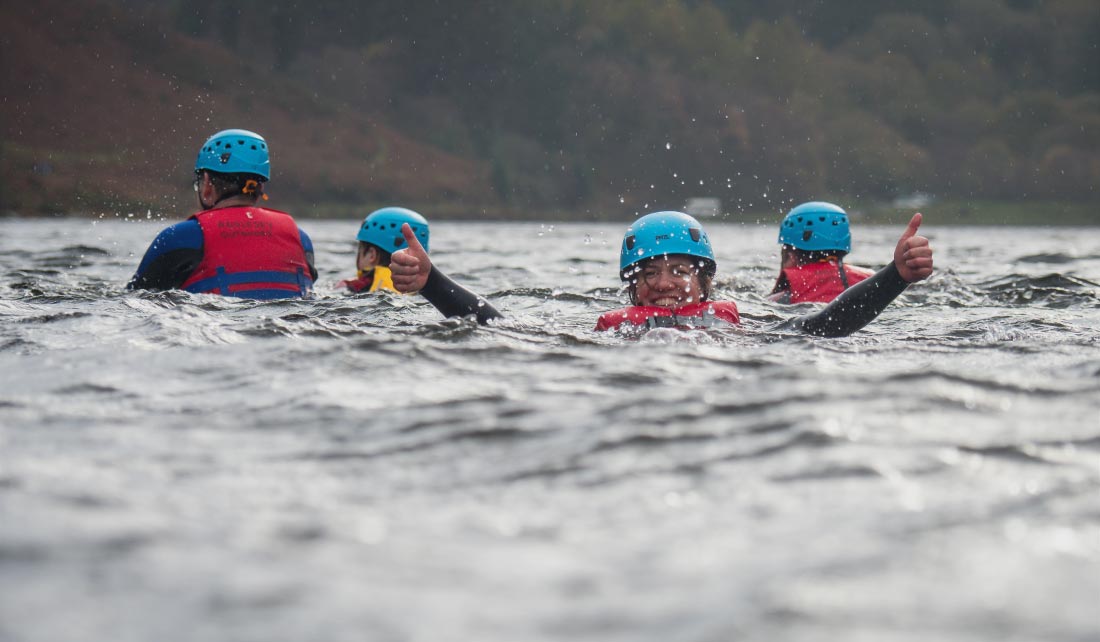 5 out of 5
"fantastic fun"
Great activity given the unfortunate weather and unusual water levels necessitating a change - but fantastic fun and our instructors were awesome guys!! Friendly, professional and a pleasure to spend the day with - many thanks!! We will be back!!
Reviewed by (anonymous) - 2017
BOOKING INFO - OPEN / CLOSE
All prices include VAT at 20%
| | | |
| --- | --- | --- |
| | | WHO CAN GO GORGE WALKING AND WHERE DO YOU DO IT? |
It's a very friendly sport, so just about anyone over 8 years old can do it - however it is a physical activity so a reasonable level of fitness is useful. Gorge Walking is a popular choice for a team building day as it involves good team work as well as tackling your own physical challenges.

We have a few gorges around that we use:
One is a fantastic upwards journey suitable for all ages but the very youngest, with a great selection of different challenges along the way even for the most boisterous of adult groups too! Another is ideal for younger people (under 11's), with the same types of challenges but in a friendlier setting. The third is like visiting a waterpark... A downward journey, slide after slide into deep pools, with a couple of jumps. A very, very wet activity and huge fun. It's quite short in length, but you can do it a good few times and you won't get bored!

If you are staying onsite with us on Anglesey the drive to the Gorges in Snowdonia takes around an hour.
We will provide you with a super warm winter wetsuit to keep you warm, a buoyancy aid, helmet.

You would need to bring:
Shoes. These will obviously get wet. They need to be stiff soled and you need to be able to swim in them without them coming off! Stiff soles are really important as the rocks are knobbly and you don't want to feel all the knobbles through the sole of your shoe, so it needs to be robust. Jelly shoes, pumps, wetsuit boots and other floppy shoes are not suitable at all. Astroturf shoes are really slippery on wet rock so avoid them too. Your best bet is a good robust trainer shoe.
Long socks, the wetsuits will come down to your ankles, and there will usually be a gap between your shoe and the wetsuit, leaving ankles exposed. So you need to wear a long pair of socks to cover this area.
Baggy shorts to cover the wetsuit. You might look a bit like superman but when people move about with their bum on the rough rocks, our wetsuits get trashed, so we cover this area with shorts to save the kit. So don't wear your very best ones.
Swimsuit. Wetsuits are worn next to skin, and definitely work best like this. You should only wear your swimming costume underneath, be it trunks, bikini or swimming costume. (Baggy shorts under a wetsuit aren't ideal)
You'll need a towel to get changed at the end. For outdoor changing bigger towels are better to cover up with.
Spare clothes for afterwards (if you arrive in swimming costumes, underwear etc).
Sun cream and any medication you would usually carry.
Our Gorge Walking activities are a half day session - aprox 3 hours in total. Please do remember to add on travel time to the Gorge in Snowdonia.
| | | |
| --- | --- | --- |
| | | HOW MANY CAN PARTICIPATE? |
We work with 8 people to one instructor, if you are a few more than this we can always get a second member of staff too.
| | | |
| --- | --- | --- |
| | | WHEN DO YOU GO GORGE WALKING? |
We can do it year-round, but obviously some times of year are a lot warmer than others... A lot. May through to September tends to have warmer air temperatures and better weather so that's the prime time. To keep you warm we have full winter weight wetsuits that are designed for cold water, plus wetsuit hoods if it's particularly chilly, most people are fine even at colder times of the year. A couple of the gorges we use you can stay reasonably dry in so you go in the depths of winter and still have a great time.
| | | |
| --- | --- | --- |
| | | WHY CHOOSE ANGLESEY OUTDOORS? |
All our instructors have excellent working knowledge of the Gorges and Canyons in Snowdonia. Our instructors are highly qualified and experienced, so you'll be in good hands.
With the right choice of venue and weather conditions, Gorge Walking is made very low risk, and you can trust in our experienced staff that they will choose the right venues and look after you well. We provide all the necessary safety kit for you too, so rest assured, you're in good hands! We are AALA licensed, meaning we meet and exceed very high standards of safety for adventurous activities.

Please read through our Terms & Conditions
| | | |
| --- | --- | --- |
| | | HOW TO BOOK YOUR GORGE WALKING ADVENTURE |
| | |
| --- | --- |
| Click the 'Book Now' button to check availability / pricing or book your place on Gorge Walking today! | |
If you are interested in a residential package adventure holiday at Anglesey Outdoors, please contact us using the enquiry form below or by giving us a call.

Alternatively, contact us today for more info about GorgeWalking in Snowdonia.
Send an e-mail
Any questions...
This website follows a standard privacy and cookie policy
RELATED ITEMS
You may also like ...
View all Activity Adventures
Do you require accommodation with your excursion?!
Anglesey Outdoors has a vareity of accommodation available on-site, popular with outdoor enthusiasts.
View all Accommodation